A talented 17-year-old from the United States, Salma Ewing, recently won week 2 of the women's singles at the Digicall Futures in Stellenbosch. Not many people realise that Salma has a South African mother - Reyana. This profile piece by TSA Board Member, Tony Loubser, reveals more about Salma and Reyana and their South African roots.
From around the age of four, Reyana Abrahams would hang out on court while her mother Ray Jardine Abrahams played league tennis for Wisteria Tennis Club in the Cape. By the time Reyana turned 10 her father decided that he should take over coaching his daughter because she demonstrated great ball control and coordination at a young age. He thought that playing tennis would be a worthwhile investment of time and money. Not being a tennis player himself, he bought Vic Braden's book and instructed his daughter in the basics of the game.
Later, he acquired a tennis ball machine at considerable sacrifice (the Abrahamses were not a rich family) and, with permission of Mr Richie, the Principal of Harold Cressy High School, continued to have the young Reyana hone her skills.
The court at Harold Cressy was not in the greatest shape, and Stanley Abrahams and his daughter had to bring their own net and erect it before they could start feeding and hitting balls. Nevertheless, Reyana progressed well and advanced through the ranks of the SACOS-affiliated Tennis Association of South Africa (TASA) coached on a part time basis by David Isaacs and Daryl Carolissen, but mostly by her dad, to eventually become number 1 in South Africa. Reyana had won every age group from the 12s to the 18s in singles, doubles and mixed doubles competition.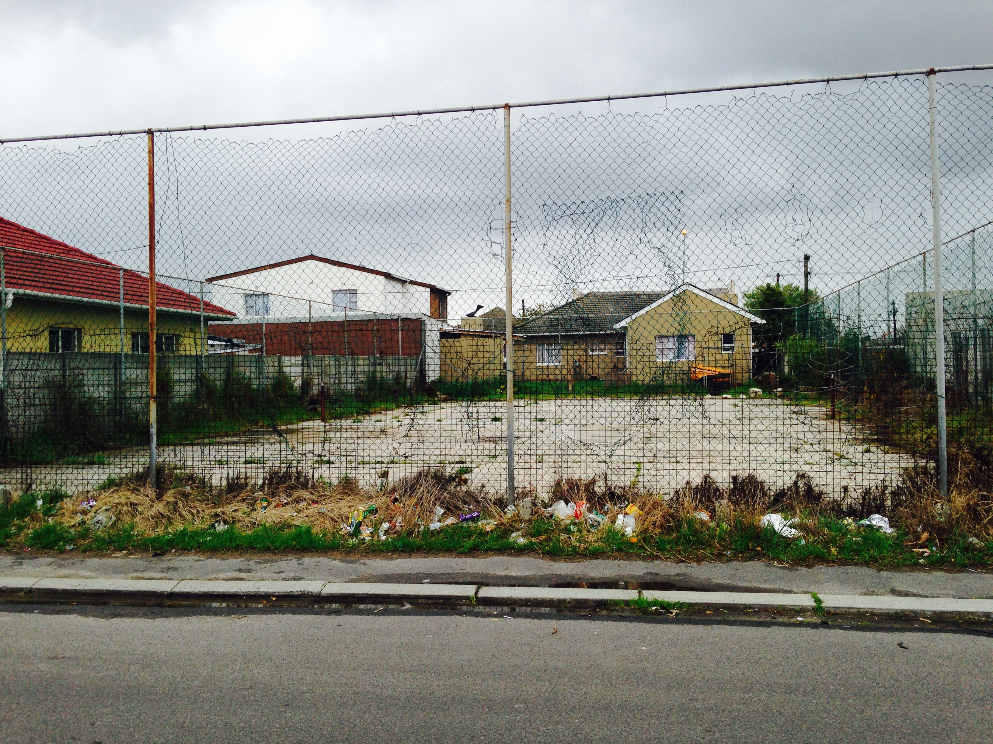 Author's comment: The one court in Elsies River where Reyana would have played some of her league matches. This court was home to a number of leading South African players, including international coach, Roxanne Clarke. Today this court, along with several other courts have fallen into disrepair mainly as a result of the disappearance of tennis structures in those communities. One of the goals of our new transformation and development programme is the re-establishment of tennis structures in our townships.
As Reyana continued to perform, winning numerous junior tournaments in the Western Province as well as national TASA titles, Stanley petitioned business and community leaders for support so that his daughter could further develop her game. Stanley hoped to secure funding for Reyana to further her game overseas, where she could be exposed to greater strength and depth in competition. While he elicited many well-wishes and encouragement, funding was unfortunately not forthcoming. Eventually, Reyana was offered a scholarship to Georgia State University in the United States where she played Division 1 College tennis for 4 years winning conference singles titles 3 years in a row.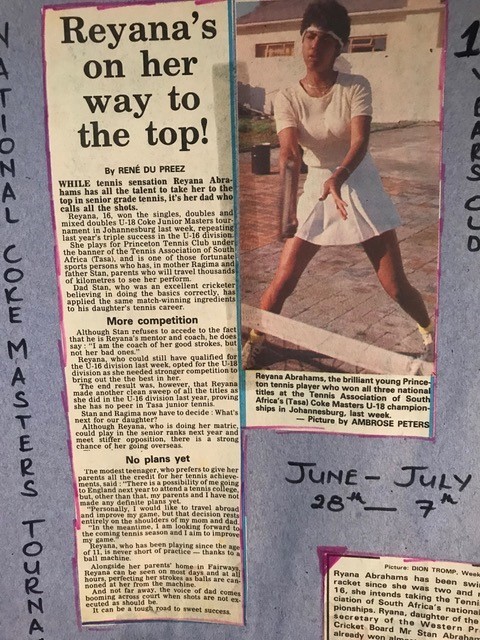 In the recent Pro-level Futures Series in Stellenbosch , Reyana returned to Cape Town with her daughter Salma, the second-eldest of three daughters. Now resident in Long Beach, California and married to American Vince Ewing, Reyana coached Salma from the start, gathering the advice of top US coaches along the way. In a road characterised by extreme sacrifice, huge financial investment and thousands of hours of practice, Salma (winner of grade 4 junior ITF title, finalist at the grade 1 ITF Coffee Bowl, winner of the women's open singles title Ojai, CA) eventually arrived in Stellenbosch without any fuss or fanfare.
The first of the Futures saw Salma progress to the second round, and in the second of these events Salma advanced to the final to play South Africa's no 1 player, Chanel Simmonds (ranked 315 in the world). The stage was set for an epic battle and the players did not disappoint. For Reyana a return to South Africa where she was excluded from the opportunities available to others while having her daughter compete against the number 1 in South Africa, was an emotional experience that few who have not walked the difficult road in her shoes would understand.
Chanel took the the first set with a typical combative performance. Salma levelled matters by taking the second and an epic third set ensued. An inside-in drive volley eventually sealed the victory for Salma.
It would be presumptuous to claim Salma as our own. However, the warm embrace of the players at the net symbolised not only the extent to which South African supporters had embraced Salma and Chanel alike, but also affirmed the significance of the match for a number of South Africans who shared Reyana's experience to a greater or lesser extent. Let's hope that these too, can be enveloped in the warm embrace of Tennis South Africa on its onward journey.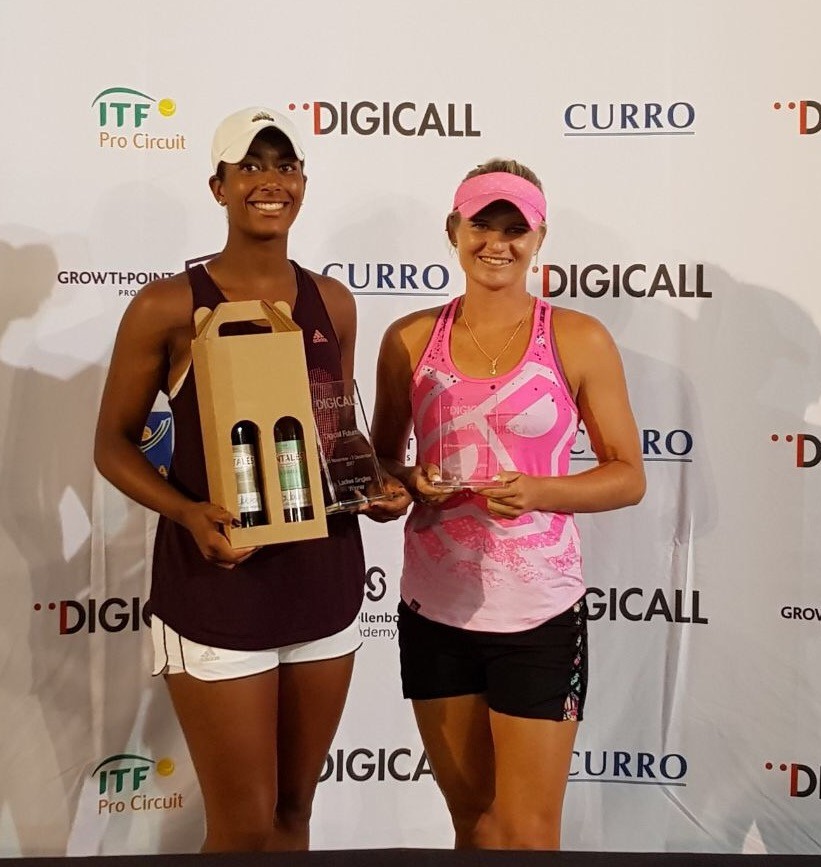 Tony Loubser is a TSA board member and head of the TSA transformation and development committee. He writes here in his personal capacity.